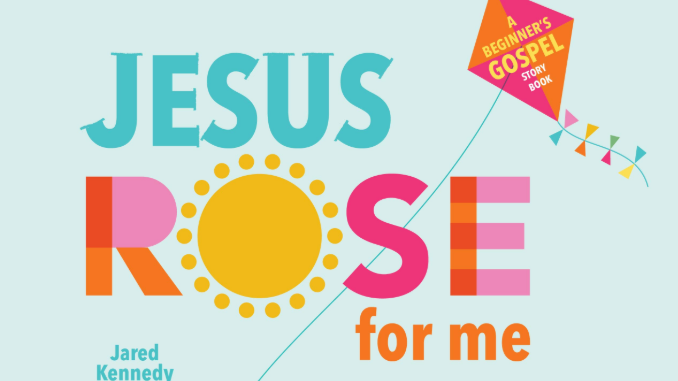 Jesus Rose for Me

by Jared Kennedy
Published by New Growth Press on March 2, 2020
Genres: Children's, Easter
Buy on Amazon
Goodreads

Every Easter, we celebrate that Jesus is more powerful than death. But what does that mean for your little one? Jesus Rose for Me by author Jared Kennedy helps toddlers and preschoolers understand the true meaning of Easter in a personal, memorable way.
This board book is a part of The Beginner's Gospel Story Bible series. For children ages three to seven, this beautifully illustrated book begins with Palm Sunday and ends with Easter, when Jesus rose for us. Children will learn that Jesus is our king, and that everyone who trusts in him is part of his forever family.

Help your kids understand that Jesus died for us and rose from the dead. Because of the compelling content and modern, vivid illustrations, children will live in the joy of the greatest truth of all: Jesus is alive!

This conversational book simply tells the story of the gospel and invites children to respond. Jesus Rose for Me helps toddlers and preschoolers celebrate that every day is resurrection day
By my count, there are approximately one million Easter-themed children's books published every year. Probably a bit of an exaggeration, but it's a fact that every publisher—Christian and secular—are all jockeying for position in the Easter basket. I'm probably getting this review in too late for this year (I'm writing this on Palm Sunday), but Jesus Rose for Me ought to win out over all others this year.
In Jesus Rose for Me, Jared Kennedy goes beyond just the typical Easter story, including scenes from the Triumphal Entry and Last Supper. This helps provide crucial context for the story that—even for toddlers and pre-readers—is important.
Each story is told in six panels, bookended with Scriptural references and a call to action.
In the Triumphal Entry, your little ones will be asked "Why do we praise Jesus?" The answer? Jesus is the King God has promised.
In the Last Supper, "What helps you remember your family?" We make picture albums and tell stories…[Jesus] gave us communion to help us trust and remember him.
It really helps little ones (and bigger ones!) see these stories as more than just fun tales, but stories that have a lesson and a purpose for us today. The language is simple and straightforward, perfect for the intended age group. With four stories (Triumphal Entry, Last Supper, Crucifixion, and Resurrection), you could easily make this a Holy Week devotional.
Trish Mahoney's illustrations are superb. Bright and colorful, they will capture your child's imagination and lead this to ask questions and drive them deeper into the story.
My children and I have really enjoyed reading Jesus Rose for Me. It's going to be a daily bedtime read this Holy Week.