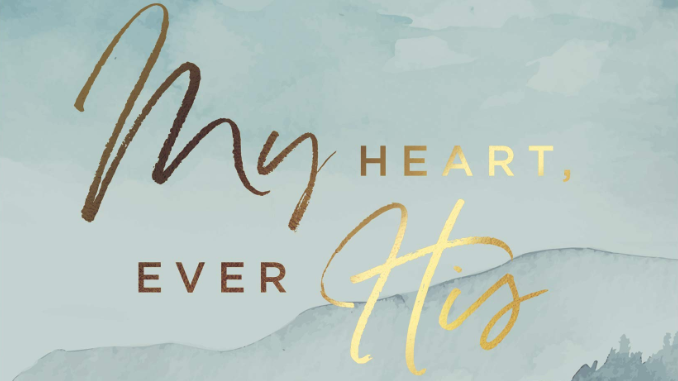 My Heart, Ever His: Prayers for Women
by
Barbara Rainey
Published by
Bethany House
on March 31, 2020
Genres:
Non-Fiction
,
Devotional
Goodreads
As we search for meaning in our world of shallow online relationships and glamorized selfies, many are returning to traditional and liturgical churches. The repeated words, benedictions, and historic hymns connect us to saints who have gone before, giving us a sense of belonging, richness, and transcendence. Written prayers, once cast off as archaic, are now welcomed as guides to tune our hearts to the heart of God.

In My Heart, Ever His Barbara Rainey shares 40 prayers for women. They can meditate on one prayer throughout the week or read a prayer a day for 40 days as a way to express the longing of our hearts to our Father who loves us even as he sees who we truly are. Like the psalms of David, these prayers are honest, sometimes raw. Barbara uses these transparent expressions of common experiences to encourage us to surrender to Christ and help us see God as he is, not as we assume him to be.
My Heart, Ever His provides a stepping-stone to help you become more transparent with God and discover his welcoming embrace.
In the introduction of this beautifully designed book, Barbara Rainey explains that during a recent period of suffering in her life, she began to write honest prayers in the spirit of the psalms, expressing her feelings to God. She had always been afraid of complaining, but she learned that God is not frightened or repulsed by our emotions, and has now shared her written prayers to encourage other women. The prayers in My Heart, Ever His model how to pray in the midst of painful circumstances, joyful blessings, and mundane routines.
Women who do not share Rainey's life experiences will not be able to pray these prayers as liturgy, but the prayers still provide a model for how to wrestle through suffering before God, talk with Him about everyday life details, and incorporate biblical concepts and phrases into our reflection and petitions before God. Every time Rainey quotes from the Bible, the words appear in blue, and there are footnotes at the end of each prayer to identify the references. Some of the prayers also lead into short devotionals where she writes more about their personal context and shares additional Scriptural insight.
Rainey writes from the perspective of an older woman with grown children, and provides lots of wisdom for those in the same or earlier stages of family life. However, even though My Heart, Ever His will be most relevant to and appreciated by mothers, single and childless women can also benefit from this if they go into the book with accurate expectations. Despite the frequent focus on family issues, the book also provides meaningful prayers about emotions, friendship, the gospel, and one's relationship with God. Despite its occasionally too personal focus, the book is vulnerable, realistic, and encouraging, modeling how a mature Christian woman can talk to God in everyday life.