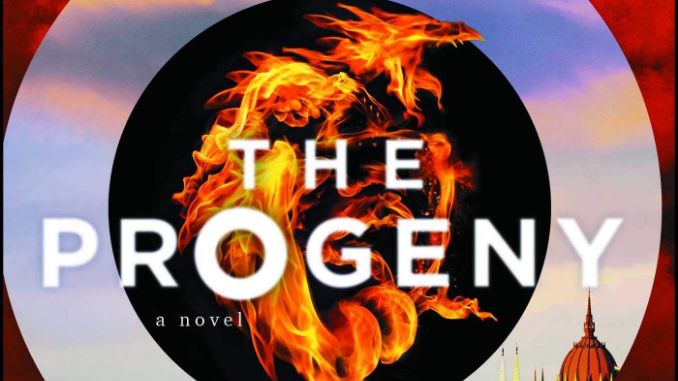 The Progeny
by
Tosca Lee
Series:
Descendants of the House of Bathory #1
Published by
Howard Books
on March 7, 2017
Genres:
Fiction
,
Christian
,
Speculative
,
Thriller
Buy on Amazon
Goodreads
New York Times bestselling author Tosca Lee brings a modern twist to an ancient mystery surrounding the most notorious female serial killer of all time. A fast-paced thriller like Dan Brown's The Da Vinci Code and BBC America's hit series Orphan Black.

Emily Jacobs is the descendant of a serial killer. Now, she's become the hunted.

She's on a quest that will take her to the secret underground of Europe and the inner circles of three ancient orders—one determined to kill her, one devoted to keeping her alive, and one she must ultimately save.

Filled with adrenaline, romance, and reversals, The Progeny is the present-day saga of a 400-year-old war between the uncanny descendants of "Blood Countess" Elizabeth Bathory, the most prolific female serial killer of all time, and a secret society dedicated to erasing every one of her descendants. It is a story about the search for self filled with centuries-old intrigues against the backdrop of atrocity and hope.
Don't ask about the last two years. If everything went as planned, you've forgotten them along with several other details of your life. Don't try to remember and don't go digging. Your life depends on it. Others' lives depend on it.
It's an unsettling message from an Emily Porter of then that's a stranger to Emily Porter now—particularly given that her name is actually Audra Ellison. She trusts the message because of two things. First, she remembers nothing. Everything did go as planned. Second, Clare from the Center has been there to help her adjust to her new life. But as soon as Clare's time is up, as soon as Emily is left alone, that old past quickly comes back to haunt her.
She discovers that she is the descendant of a serial killer.
She discovers that she has a preternatural power of persuasion.
She discovers that she is part of a group known as The Progeny.
She discovers that she once knew some very sensitive information.
She discovers that the Scions will kill for this information.
She discovers that her name is Audra Ellison and she will dead by morning unless she trusts this stranger named Luka who promises he is on her side.
Thus beings a sweeping journey about reclaiming what was lost; about love, trust, and identity; about the often-subconscious influence of past generations; and about finding oneself and one's calling, no matter what. Sometimes bizarre, sometimes exhilarating, always entertaining, The Progeny is an adrenaline rush of an adventure that refuses to let up, even as you turn the final page.
With The Progeny, Tosca Lee gives readers a much different type of story than she ever has before. Known for her compelling fantasy in The Books of Mortals and her epic historical novels (Havah, Iscariot, The Queen of Sheba), Lee now turns to a psychological speculative thriller with a historical bent.
Audra and Luka go on the run as Audra attempts to relearn what she's forgotten, all while avoiding death, not knowing who to trust, and being thrown into a crazy conspiracy that's lasted hundreds of years. And therein lies my problem with the storyline. Maybe it's just my dumb brain, but this is a lot to follow.
From page one, I have to be convinced that a memory wipe is not only a possible thing, but that it's a commercial venture, Eternal Sunshine of the Spotless Mind style. And like most people who want their mind wiped, they immediately want/need to regain that information. By chapter three, all the reasoning behind chapter one is undone. We begin to see Audra's reasoning as the story unfolds, but it's too little too late and I'm still not entirely sure it was justified. It was a necessary setup to much of the book's drama, but because it didn't seem well-founded, neither do the rest of those twists.
The actual conspiracy is also deeply twisty and not well-grounded. I can get behind the supernatural, speculative thing about Elizabeth Bathory's descendants having powers of persuasion. It fits into the creepy killer vampiric mythos.
Where it gets troubling is that the Scions have the power to absorb the memories of a Progeny at the moment of the Progeny's death. Why? How? The Scions are descended from twelve different families, yet they all have this same mysterious power? It doesn't track as well and comes across as contrived.
Later, we learn that there's a third group that's dedicated themselves to protecting Progeny even to the point of infiltrating the Scions by intermarriage. It's all a complex web of conspiracy that never really quite sold itself to me.
Despite this, Tosca's thematic imagery and powerful characters kept me overlooking the flaws that I saw. I wonder if maybe the Progeny story was conceived as one book that eventually got too big and broke into two. After reading Firstborn, some of my unanswered questions were answered and other justifications were offered.
With The Progeny Tosca Lee give a fast-paced and fun adventure, just don't think about the plot issues too hard. But Tosca Lee has long taught me to slow down and think hard about her books and that's what made me so critical of this one.