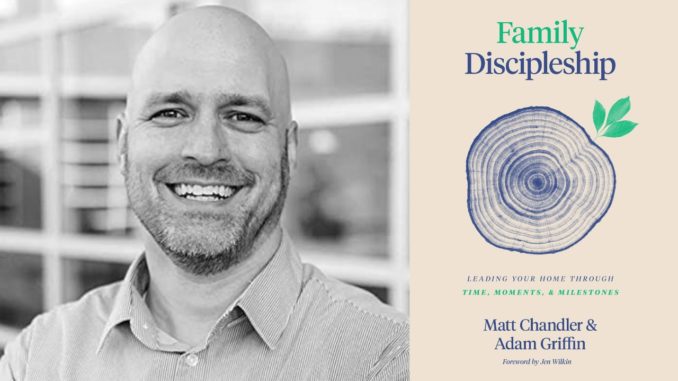 Podcast (beyond-the-page): Play in new window | Download
Subscribe: Apple Podcasts | RSS
As a youth pastor, family discipleship is at the core of my ministry philosophy. The job of the parent is to disciple. The job of the youth pastor is to support, teach, mentor, and do the things that parents cannot do or are not equipped to do. And yet, as a youth pastor, I've often found that the onus of spiritual development is shuffled off on the pastor. We give our kids over to specialized experts in school and sports, so it seems only natural to do in the church as well.
Matt Chandler and Adam Griffin wrote Family Discipleship to address that issue in their own churches and empower parents with the resources needed to confidently step into the role of discipleship. Recently, I had a chance to talk with Adam about the book.
The Interview | Family Discipleship by Matt Chandler and Adam Griffin
Josh Olds: I guess the first thing to do is understand what family discipleship is, so let's begin there. What does the term "family discipleship" mean to you?
Adam Griffin: That's a great question. I think discipleship is a term that gets thrown around a lot in Christian circles and it can mean different things to different people. To some people, discipleship means evangelism—God saying go and make disciples. To some people that means education, like growing and maturing people who are already believers. I believe it means, really some of both—or all of both. So when we talk about family discipleship, we're talking about a parent's responsibility to lead their own home spiritually, to see their kids as part of the Great Commission, to say that our role is to teach the children that are in our homes, to know and obey Christ. Family discipleship, in the book, we define it as the "important and mostly ordinary spiritual leadership of your home."
Josh Olds: My experience as a youth pastor is that many parents don't feel able or qualified to step into that role. How do we begin to change that in their lives to get them to where they feel like this is something that they can do?
Adam Griffin: Well, that's one of the motivations of writing the book. We want to demystify the idea that an expert theologian is required in order to disciple your kids and help people see that the call on every parent's life is to disciple their kids…it's not about having an expert knowledge or a professional pedagogical approach to teaching your kids like a professor would. It's about recognizing that the Lord has given you the kids he's given you. And he has given you the role he's given you as mom or dad.
The Book | Family Discipleship
One of the greatest responsibilities all Christian parents have is to be disciple makers in their homes.
Discipling your family can feel like an intimidating task, but it doesn't need to be overwhelming or complicated. With a simple plan in place, discipleship is something every parent can do.
Pastors Matt Chandler and Adam Griffin have made it their mission to help you develop a sustainable rhythm of gospel-centered discipleship focused in three key areas: time, moments, and milestones. Filled with suggestions, sample plans, and Scripture references, this book begins with the end in mind–equipping you to create a unique plan for your family as you raise your children in the love and fear of the Lord.
The Author | Matt Chandler
Matt Chandler is the lead pastor of teaching at The Village Church in Dallas/Fort Worth, Texas, and the president of Acts 29. He has authored several books, including Take Heart, Mingling of Souls, Recovering Redemption, To Live Is Christ to Die Is Gain, Creature of the Word, The Explicit Gospel, and Joy in the Sorrow. Matt and his wife, Lauren, live with their three children—Audrey, Reid, and Norah—in Highland Village, Texas.
The Author | Adam Griffin
Adam Griffin (DEdMin, The Southern Baptist Theological Seminary) is the lead pastor of Eastside Community Church in East Dallas, Texas. He previously served as an elder and spiritual formation pastor at the Village Church. Adam lives with his wife, Chelsea, and their three sons Oscar, Gus, and Theodore, in Dallas, Texas.