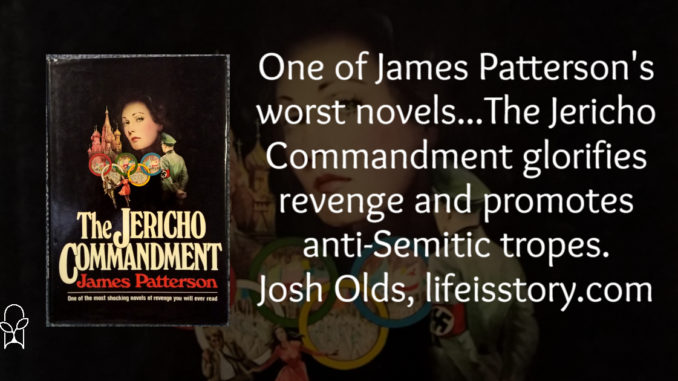 The Jericho Commandment / See How They Run
by
James Patterson
Also by this author:
1st to Die
,
2nd Chance
,
3rd Degree
,
The Horsewoman
,
4th of July
,
The 5th Horseman
,
The 6th Target
,
7th Heaven
,
The 8th Confession
,
The 9th Judgment
Published by
Crown Publishing Group (NY)
on January 1, 1979; May 1997
Genres:
Fiction
,
Suspense
,
Thriller
Buy on Amazon
Goodreads
Outside New York City, the palatial home of Dr. David Strauss's parents is attacked by gunmen during a glittering party. As he watches helplessly, his wife is murdered. In Los Angeles, Strauss's brother is killed during the Academy Award ceremonies. In Manhattan, his past sweetheart, Alix Rothchild, is running for her life. Dr. David Strauss is soon obsessed with finding the explosive secret behind the murders of his family members. His dangerous odyssey takes him across Europe, and finally to the Olympics, where one of the most shattering surprises in suspense fiction will take place.
After two fairly small-scale novels in The Thomas Berryman Number and Season of the Machete, James Patterson crafts a novel about a global conspiracy involving Jewish people which…well, makes the plot not exactly age gracefully, even if David Strauss and Alix Rothchild are the heroes. The Jericho Commandment takes readers into secret society of code-named militant Jews who are working against a likewise secret society of neo-Nazis. How do they do this? First, they pose as neo-Nazis and kill a prominent Jewish woman. Second, they intend to hijack the 1980 Moscow Olympics and turn it into revenge for the Holocaust. It's more than a bit awkward to watch Patterson, white and Christian, write a story about Jewish terrorists. He also undermines real and valid concerns of anti-Semitism by painting it in such an outlandish fashion.
Published in 1979 and set in 1980, Patterson obviously intended for the real-life tension of having the Olympics in the Soviet Union bleed into his novel. Patterson also cribs from the real-life 1972 Munich Olympics terrorist attack, where members of the Palestinian terrorist organization Black September murdered two members of the Israeli Olympic team. Patterson really thought about a time that Jewish people were victims of a terrorist attach and thought "ah, but what if they were the terrorists?" In real life, both the US and Israel (along with 64 other nations) would boycott the 1980 Olympics due to the Soviet-Afghan War.
The Jericho Commandment may be one of Patterson's worst novels and compounding that is that, eighteen years after its 1979 release, he re-edited and re-titled it, releasing it under the name See How They Run. Not even his newfound fame from Alex Cross could save this novel and it became his first but by no means his last complete flop.