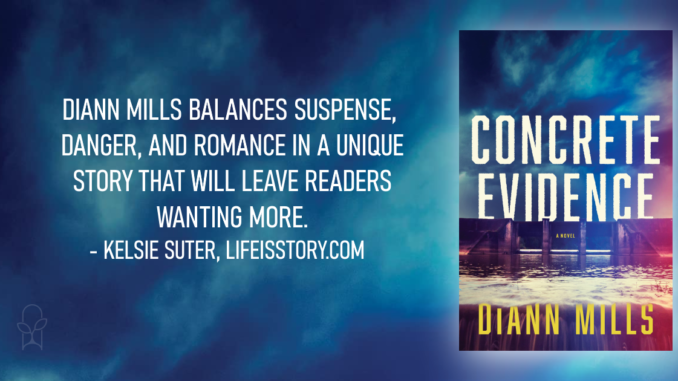 Concrete Evidence
by
DiAnn Mills
Also by this author:
Airborne
,
Fatal Strike
,
Deadly Encounter
,
High Treason
,
Deep Extraction
,
Where Tomorrow Leads
,
Long Walk Home
,
Trace of Doubt
,
Trace of Doubt
,
Facing the Enemy
Published by
Tyndale
on October 4, 2022
Genres:
Fiction
,
Christian
,
Romance
,
Suspense
Buy on Amazon
Goodreads
On the family's Brazos River Ranch in Texas, Avery Elliott helps run her grandfather's commercial construction business. Raised by Senator Elliott, Avery has never doubted her grandfather is the man of integrity and faith she's always believed him to be . . . until the day she finds him standing with a gun over the body of a dead man. To make matters worse, Avery's just discovered a billing discrepancy for materials supposedly purchased for construction of the Lago de Cobre Dam.
Desperate for answers, Avery contacts FBI Special Agent Marc Wilkins for help. As Marc works to identify the dead man Avery saw, threats toward Avery create a fresh sense of urgency to pinpoint why someone wants to silence her. With a hurricane approaching the Texas coast and the structural integrity of the Lago de Cobre Dam called into question, time is running out to get to the bottom of a sinister plot that could be endangering the lives of not only Avery and her loved ones but the entire community.
I waited a while before providing feedback on Concrete Evidence by DiAnn Mills. Not because I disliked the book but rather because I wanted to contemplate my words.  I have enjoyed every DiAnn Mills book I have read, and Concrete Evidence is no exception…as long as I did not think too hard. Unlike most of her books, certain aspects of Concrete Evidence didn't line up for me. It could be because I inhaled the novel like it was fresh water in a desert. Or it could be because of my career in emergency management and my horse experience, both of which led me to ask "What?"
I liked Avery and Marc's characters; Mills does a great job developing them as people and making them likeable. Avery and Marc were not her most relatable characters, but they're still the type of individuals readers want to root for. With danger around every corner, of course readers want everyone safe! You'd be pretty heartless to wish otherwise when you read DiAnn Mills novels! She makes it impossible not to be in the characters' respective corners. Avery is trusting until circumstances dictate otherwise; meanwhile, Marc is the opposite. It served as a nice contrast.
Where I struggled with Concrete Evidence by DiAnn Mills: Research errors made me cringe, and this, in turn, affected my believability of the plot. Avery rides horses, for example, and gives a lesson to another character. As a horse person, I understand the terminology better than most. Certain aspects of the horse segments were incorrect and left me with cartoon question marks over my head as I tried to figure out what Mills meant to say. It mostly surrounded the equipment placed on the horse in order to ride, also known as tack. A few examples:
Most riders don't ride with a halter under the bridle. I do if I'm not riding in an arena, but typically, it's unnecessary. Looking back, I think she was trying to describe the headstall, which is not synonymous with a halter.
A bit does not go over a horse's nose. You put it at the front of a horse's mouth and stick typically your thumb and middle finger on both sides of the mouth, at the back, and behind the molars to prompt the horse to open its mouth. Then you gently pull the bit up and over the tongue.
Avery points out different parts of a bridle: noseband, browband, crownpiece, and throatlatch. These are common parts on an English bridle not a western one like what Avery would be using at the ranch. Unless you're doing speed or high-impact events like roping, you do not use a noseband/tie-down in western riding.
Finally, I struggled with the novel's portrayal of a hurricane. The National Weather Service has no authority to issue evacuations; those come from the local government. Furthermore, I understand that a hurricane may not concern residents that live farther inland, but when the storm hit, there was no noticeable shift in the book's tone. It seemed to soften the serious nature of a Category 5 storm. For featuring a hurricane in the novel's synopsis, I expected more.
Overall, Concrete Evidence by DiAnn Mills was another successful addition to her authored novels. DiAnn Mills balances suspense, danger, and romance in a unique story that will leave readers wanting more. DiAnn Mills, sign me up for your next one!