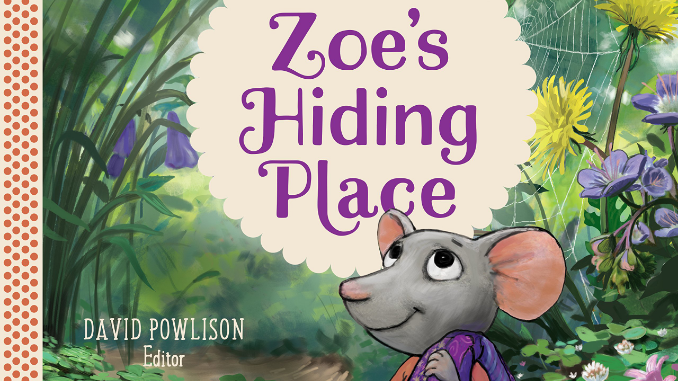 Zoe's Hiding Place: When You Are Anxious
by
Jocelyn Flanders
Also by this author:
Henry Says Good-bye: When You Are Sad
,
Tori Comes Out of Her Shell: When You Are Lonely
,
Gus Loses His Grip: When You Want Something Too Much
Series:
Good News for Little Hearts #1
Published by
New Growth Press
on September 2018
Genres:
Children's
,
Children's Educational
This beautifully illustrated book invites children to remember that the Lord is near when they are anxious. Zoe, a fearful mouse, is worried about a class trip. As she talks with her parents, Zoe realizes that she can turn to God for help. Papa Mouse gives her a verse from the "Great Book" that she can read when she is afraid. She learns that she can tell God all about her fears, and he will comfort her. Also included is a tear-out page of "Back Pocket Bible Verses" that will give children a practical way to remember God's words when they are afraid.
Learning emotional control can be one of the most difficult things about early childhood (or late childhood…or adolescence…or adulthood). For little ones engaging with these emotions and these heart issues for the very first time, it can be a confusing and troubling experience.
Story, especially for our little ones, becomes a way to experience and understand certain experiences without needing to be in the middle of them. We learn how to respond to anger or anxiety or failure by seeing it modeled in other people—in our life stories—or in fictional characters. Children's actions and responses are often modeled by the media they consume.
As such, it becomes very important to teach and model appropriate emotional reactions to our children. To help with this, the Christian Counseling and Educational Foundation has partnered with New Growth Press to develop and publish a series of children's books meant to introduce such topics. The end result is Good News for Little Hearts, written by Jocelyn Flenders and illustrated by Joe Hox.
Zoe's Hiding Place
Zoe is getting ready to go on a school field trip but she is a bit anxious about getting lost. The last time that she went to the art museum, she became lost in her thoughts and her class moved on without her. She is worried that the same thing will happen again.
To help out, Mama reminds her of all of God's promises to be with her and keep her safe. Papa writes out a Bible verse on a piece of paper for Zoe to take with her.
Sure enough, when they get to the art museum, Zoe becomes enraptured with one of the paintings and does not notice her class leaving. She gets scared, but remembers the slip of paper her Papa gave her. She reads it and prays to God to ask forgiveness for not paying attention (something her teacher, Miss Minnick, should do as well, I think) and for help with what to do.
Then Zoe remembered that they were all going to the Great Oak for lunch. She finds her way to the Oak and is reunited with her classmates.
Review
My major issue with this book is that blames Zoe for "getting lost." She doesn't wander off. She isn't misbehaving. Her class leaves without her. For the past few years, I've helped direct a summer camp that routinely has 100-120 kids per week. We drill it into our camp leaders' heads that THE CHILDREN ARE THEIR RESPONSIBILITY. They are to know how many kids are in their group and ensure they have all the children with them when they leave an area. This is Miss Minnick's fault. 100%. I would be writing her an official reprimand if I was her manager.
Moreover, I'm not convinced the best response is to then go off toward the Great Oak. If you get lost, especially in the woods, you are supposed to stay in one place. If the group knows where she's at, they will be able to find her. Moving around makes it less likely she will be found. (The class isn't just in the next room or down the hall, they're way back at the Great Oak "in the distance," to quote the book. This is the equivalent of not being able to find your group because they got on the bus and are now at McDonald's.)
If you get lost, find an adult, preferably one in authority. The art museum employees should have been able to help her. The front office employees should not have let a small child wander out of their museum without adult supervision.
The teaching regarding anxiety is good. I appreciate it. It's the right thing to do. Biblically, the teaching is solid. The storyline and how the book presents the teaching is far from the best. While I enjoyed Buster's Ears Trip Him Up, I can't recommend this particular volume in the series.