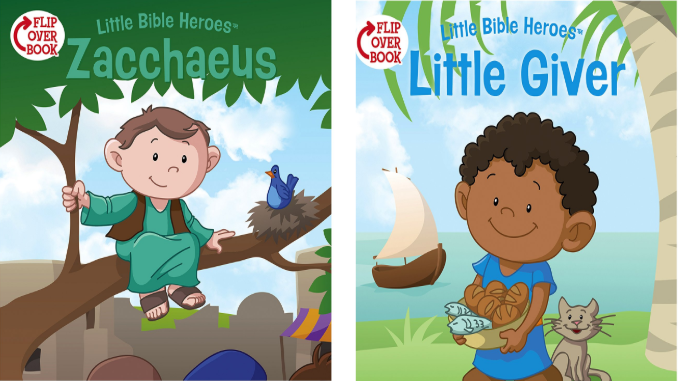 Little Bible Heroes: The Little Giver/Zacchaeus
by
Victoria Kovacs
Also by this author:
Little Bible Heroes: Joshua
,
Little Bible Heroes: Ruth
Series:
Little Bible Heroes
Published by
B&H Publishing
on May 1, 2016
Genres:
Children's
,
Bible Stories
Buy on Amazon
Goodreads
What could be better than a great hero story? TWO great hero stories! And there's no better place to find them than the Bible. Each Little Bible Heroes™ Flip-Over Book offers two stories of bravery, faithfulness, and kindness—straight from the Bible and perfect for little hero-loving hearts!
Two stories in one book! The Little Bible Heroes flip-over book series is an easy to read and fun to look at retelling of biblical stories in a way that even the youngest of children can understand.
Little Bible Heroes is back with two new adaptations, this time taking us back to the conquest of the Promised Land and the stories of Zacchaeus and The Little Giver. Victoria Kovacs continues to masterfully break down the biblical story into words and ideas that a preschooler can understand without losing the heart of the message.
The key point of The Little Giver is that God uses people—even little people!—to accomplish his miracles. You may not think of this unnamed boy as a Little Bible Hero, but without him, there may not have been a miracle. He was willing to give what he had and let Jesus make something great out of it. It's a wonderful message: Give what you have to Jesus. He'll magnify it and make it great.
Zacchaeus's story is a little more well-known. The story is told exactly as it happens: Zacchaeus can't see Jesus, so he climbs into a sycamore tree. Jesus tells Zacchaeus that he needs to meet with him. Zacchaeus is convicted and promises to pay back anyone he has cheated. The first panel made me chuckle. Zacchaeus is in his office, with a bag of money overflowing on his desk as he writes on a scroll. There are framed pictures of bags of money in the background on his walls. It's a subtle way of making the point that Zacchaeus wasn't just doing his job but was sinful in his love of money and the way he treated others.
Like other books in the series, the middle pages have a Parent Connection section that includes a Bible verse, a couple discussion questions, and one quick thought to remember. These are more than just stories to read. These are timeless truths of Scripture told in a way that even the youngest readers and pre-readers can understand.
As always, the Little Bible Heroes stories do well at lending themselves to interaction in the storyline. Ask, ask, ask questions. Don't just read the words, get your child to interact with them and seek out their thoughts and have a conversation with them. It is so important to cultivate faith at a young age and the Little Bible Heroes series is perfect for doing just that.