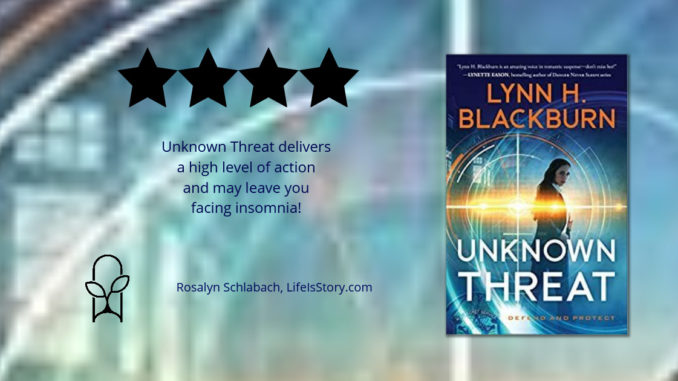 Unknown Threat
Series:
Defend and Protect #1
Published by
Revell
on March 2, 2021
Genres:
Fiction
,
Christian
,
Suspense
,
Romance
Goodreads
US Secret Service Special Agent Luke Powell is lucky to be alive. Three of his fellow agents have died in unusual circumstances in the past ten weeks. Luke is devastated by the loss of his friends and colleagues, and his inability to locate the killer feels like a personal failure. He's an expert at shielding others, but now the protectors are in need of protection.

FBI Special Agent Faith Malone is driven to succeed and confident in her ability to solve every case she's assigned. She's been put in charge of the investigation into the unprecedented attacks, and with Luke's life in danger, the stakes have never been higher. But it's hard to know how to fight back when you don't know who the enemy is.
As more agents are targeted, Luke and Faith will have to work together to bring a killer to justice and prevent any more names from joining their fallen brothers and sisters on the Secret Service Wall of Honor.
I love suspense novels, especially ones about law enforcement agents, and this one is a really good one! The first is Lynn Blackburn's Defend and Protect series, Unknown Threat, delivers a high level of action and causes lots of rapid page turning and may leave you fighting insomnia if you read it late at night. I was immediately drawn into this story and was hooked from the very first page.
FBI Agent Faith Malone is put on a case involving the deaths of several Secret Service Agents, all from one location in Raleigh. The pieces aren't making sense, but it seems highly likely that all the deaths are related, and it is up to Faith to make sense of it all. I love mysteries involving law enforcement, and I found Unknown Threat to be a fun, and attention-grabbing read. Luke, one of the targeted Secret Service agents, wants nothing to do with the FBI (something in his past), but in spite of all of that, he doesn't mind working with Faith, in fact, he rather likes it. And her. You can  guess where I'm heading with this (it is a romantic suspense, after all!). Even though it didn't take a mad scientist to figure out the romance part of this, I still enjoyed reading about their journey, and the way the relationship progressed.
Blackburn's characters are believable. Luke and Faith both have some deep-seated issues from their growing up years, issues that have a big impact on their relationships in the current time period. And then, something I found quite fun, some old favorite characters from Lynn Blackburn's earlier series made some brief appearances throughout the book. (It's always fun when old friends show up!) Unknown Threat was very unpredictable and full of twists and turns. I found myself in the dark until the very end. I thoroughly enjoyed the book, and look forward to reading the next in the series!