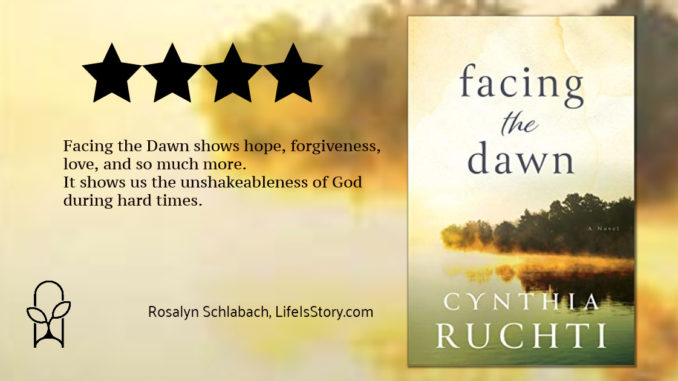 Facing the Dawn
by
Cynthia Ruchti
Published by
Revell
on March 2, 2021
Genres:
Fiction
Buy on Amazon
Goodreads
While her humanitarian husband Liam has been digging wells in Africa, Mara Jacobs has been struggling. She knows she's supposed to feel a warm glow that her husband is nine time zones away, caring for widows and orphans. But the reality is that she is exhausted, working a demanding yet unrewarding job, trying to manage their three detention-prone kids, failing at her to-repair list, and fading like a garment left too long in the sun.

Then Liam's three-year absence turns into something more, changing everything and plunging her into a sunless grief. As Mara struggles to find her footing, she discovers that even when hope is tenuous, faith is fragile, and the future is unknown, we can be sure we are not forgotten . . . or unloved.
I found Facing the Dawn to be an incredibly beautiful, painful, bittersweet story. It shows hope, forgiveness, love, and so much more. It shows us the unshakeableness of God in hard times. This was a book I knew I had to read and yet, the more I heard about it, I wanted to shy away from it. I gathered that it would not be an easy read and I was right! Facing the Dawn tells a very difficult story. The main character, Mara, is in such a difficult place in life. Ruchti has such a way of taking her characters through hard things. Yes, incredibly hard issues! But through it all, she hangs on to hope and all its possibilities.
Back to the story: There's Mara. First off, she's had to give up her husband for what seems like an incredibly long time, all because he had a huge dream to help bring water to the poor in Uganda. So, poor Mara is left at home dealing with their three troubled and rather troublesome teens, trying to be strong, trying to fill in the gap. And failing miserably. She's reached the end of her rope and just isn't sure how much more she can handle. And then, just when Mara thought things couldn't get worse, they do.
Life takes on a whole new appearance. Everything feels black, and so very dark. Mara is left struggling, trying just to keep her head above water and make sense of everything. Then another unthinkable thing happens. And Mara is left with nowhere to turn, except to God. Which is maybe the lesson she's most needed to learn all along. Mara learns anew what a blessing friends can be, and how much each and everyone of us needs someone to depend on, when her forever friend Ashlee shows up just when she needs her most. Facing the Dawn gives voice to someone who might feel unheard, single parents in particular, and tells them they are not alone. I love how this story can bring clarity and insight to parts of us that we might not even know are needing voice and healing. I really appreciate how Ruchti has made faith such an integral part of this story, and shows it as the unshakeable foundation that we all can have, if we are willing to lean on God.
This is a story that will have you wiping your eyes and looking around you to treasure all those little things you may have been taking for granted around you. I found it both a blessing and a challenge to my own life, and as such, I do recommend it to anyone that is looking for a story that will lead them to a deeper walk with God. My only caution is that I would not recommend it to younger readers.