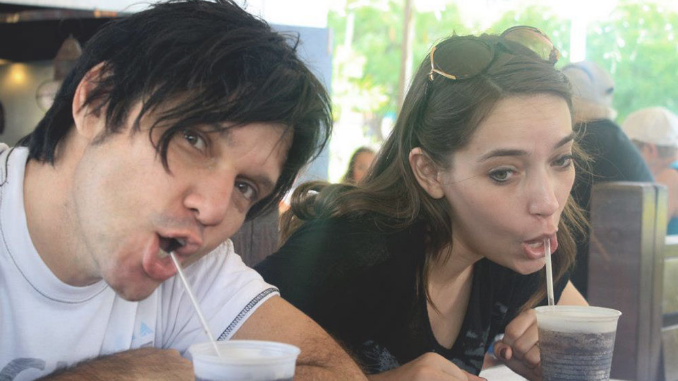 Podcast: Play in new window | Download
Subscribe: Apple Podcasts | RSS
An Exclusive Interview with Rachelle and Ted Dekker
Grace has long lived in fear. She has been in waiting: waiting to inherit the earth, waiting behind this red rope, waiting in fear that the day will never come. Then, one day, she steps beyond the boundary. In The Girl Behind the Red Rope, Ted Dekker and Rachelle Dekker team up to offer a powerful modern parable about a people too scared to live in freedom.
Life is Story founder and editor Josh Olds recently sat down with the Dekkers for an exclusive, hour-long podcast interview. Whether you're a Dekker fan, a writer wanting to learn more about story, or just wanting to hear about the creation of good fiction, dive deep and join us in the conversation.
Purchase The Girl Behind the Red Rope on Amazon.
Josh Olds: Give us your elevator pitch of this novel. What is it all about?
Ted Dekker: We all live in fear of crossing that red rope and betraying whatever we think will keep us safe from some perceived threat. And that is a massive issue, especially for Christians, because as it turns out so many of our beliefs are really based in fear of some negative consequence… why is it that we as Christians live in so much fear? We call it wisdom, but it's actually fear. So be careful, be careful, be careful and live in fear: fear of hell, fear of consequences of some kind. And that's simply not love…That's the theme of the novel and the plot is kind of a wild telling of that…it was a lot of fun to write.
Josh Olds: Specifically, for you, what did the red rope represent?
Rachelle Dekker: As fiction writers, we write to discover our own blindness. So we are not writing for an audience. I mean, we are absolutely, and our readers are incredibly important to us, but the first audience reader is us. As we are creating, we're asking questions that we're afraid of—afraid of the answer that our character might find because it illuminates our own blindness, our own thickness, our own darkness…For me, it was the fear of losing my career. What if I have to write novels that are easy to swallow, otherwise they won't pay me? I was literally having conversations with my husband about going back to work, like in an office. Like, what would I do? What if I can't sell this?
Josh Olds: Did you have trouble pitching this novel to publishers?
Rachelle: For six months, I went round and round with a publisher trying to make it appropriate, trying to make it fit in a box that didn't terrify somebody who had paid me to write it—and we could not reconcile. And that, in and of itself, was like a warning. It was like a tiny whisper in the middle of the night that reminded me: This is why you need to write it. This is the exact reason why the story needs to be told. Because even the idea of the story is threatening.
Listen to the full interview for more on The Girl Behind the Red Rope, including an in-depth discussion of some of the most pivotal scenes and characters. Also, Ted and Rachelle talk briefly about their current projects and Ted name-drops the working title of his next thriller. You don't want to miss out!
The Story | The Girl Behind the Red Rope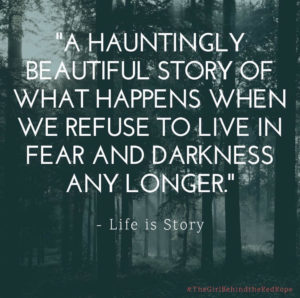 Ten years ago, Grace saw something that would forever change the course of history. When evil in its purest form is unleashed on the world, she and others from their religious community are already hidden deep in the hills of Tennessee, abiding by every rule that will keep them safe, pure–and alive. As long as they stay there, behind the red perimeter. Her older brother's questions and the arrival of the first outsiders she's seen in a decade set in motion events that will question everything Grace has built her life on.
Combining Rachelle Dekker's storytelling and prose with her father's passion for symbolism and meaning (and great villains), the Dekker Duo's first collaboration is a thought-provoking journey into the soul. Should we choose safety over freedom? The known for the unknown? Is the boundary of the red rope there to keep us safe or does it keep us from experiencing life beyond our fears?
The Girl Behind the Red Rope is a hauntingly beautiful story of what happens when we refuse to live in fear and darkness any longer. It's probably the best Dekker book of this decade.
The Authors – Ted Dekker
Ted Dekker is a multiple award-winning, New York Times and international bestselling author of over 40 novels.
His work has reached tens of millions worldwide and has been translated into numerous languages and adapted into major feature films (Thr3e and House). In 2013, NPR readers nationwide named him as one of the top suspense writers of all time.
Ted's passion is simple: to explore truth through mind-bending stories that invite readers to see the world through a different lens. Story is the shortest distance between the human heart and truth, and to this he has devoted his life.
Listen to more Ted Dekker interviews.
The Authors – Rachelle Dekker
Rachelle Dekker is many things. She is a daughter, a sister, a wife, a writer, a friend, a cat lover, and a believer. However, these are all just roles and though she loves these roles very much, who she truly is cannot be fully addressed because that is something she is still discovering.
The oldest daughter of New York Times bestselling author Ted Dekker, Rachelle Dekker was inspired early on to discover truth through the avenue of storytelling. She writes full time from her home in Nashville, where she lives with her husband, Daniel, and their diva cat Blair.
Read more Rachelle Dekker reviews.
Outro Music – Caitlyn Lutz
Special thanks to Caitlyn Lutz for providing the outro music for this podcast episode. "Dive Deep" was borne out of a worship session and comes from the thematic elements found in Ted Dekker's Circle Trilogy. With Ted's closing thank you to the "Ancient Dekkies," it seemed a fitting conclusion to our interview.
Giveaway – The Martyr's Song Trilogy
To celebrate the launch of the Life is Story podcast, we're giving away aset of Ted Dekker's The Martyr's Song trilogy.