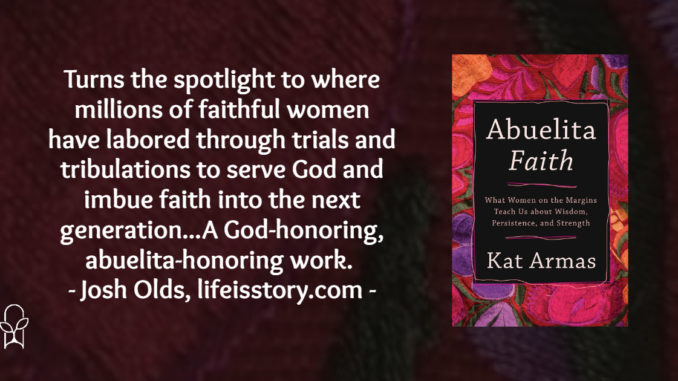 Abuelita Faith: What Women on the Margins Teach Us about Wisdom, Persistence, and Strength
by
Kat Armas
Published by
Brazos Press
on August 10, 2021
Genres:
Non-Fiction
,
Christian Life
Buy on Amazon
Goodreads
What if some of our greatest theologians wouldn't be considered theologians at all?
Kat Armas, a second-generation Cuban American, grew up on the outskirts of Miami's famed Little Havana neighborhood. Her earliest theological formation came from her grandmother, her abuelita, who fled Cuba during the height of political unrest and raised three children alone after her husband passed away. Combining personal storytelling with biblical reflection, Armas shows us how voices on the margins--those often dismissed, isolated, and oppressed because of their gender, socioeconomic status, or lack of education--have more to teach us about following God than we realize.
Abuelita Faith tells the story of unnamed and overlooked theologians in society and in the Bible--mothers, grandmothers, sisters, and daughters--whose survival, strength, resistance, and persistence teach us the true power of faith and love. The author's exploration of abuelita theology will help people of all cultural and ethnic backgrounds reflect on the abuelitas in their lives and ministries and on ways they can live out abuelita faith every day.
I am a white, male American pastor. When I consider my academic training—B.S. in Religion, M.A. in Theological Studies, D.Min. in Ministerial Leadership—and reflect on my professors, they are almost exclusively also white, also male, also American. And that means I have a perspective problem. A lot of what I've learned about faith has been spearheaded by people who have almost exclusive come from my exact background. When I graduated seminary with my Masters, I went to work at a primarily Chinese church as their English pastor. That's when I first grasped how limited my perspective had been and how I needed to purposefully seek out teachers and voices different from mine to expand my understanding of faith. Abuelita Faith is, for me, a part of that expansion.
Kat Armas writes a scholar, as a woman, and as a Cuban. Her premise is not just "Look, Brown women can also become as intellectually astute as white men," though that alone would be a paradigm-altering shift that challenges the patriarchalism and racism insipient within American theological structures (White evangelicalism, in particular). Instead, her premise is that faith in God is expressed just as fully in an Abuelita Faith—a faith that is "real, raw outworking" of belief that is transformative within Latine religious culture. While Armas writes within her particular ethnic context, she is also cognizant of Black, indigenous, and other cultures who share the stories of strong, godly women who embody and pass on a love for God despite a lack of formal training or recognition.
Armas expertly weaves personal experience with Biblical narrative and cultural perspective to create a work that is both grounded in Biblical truth but seen through a decolonizing lens. The opening chapter, "Abuelita Theology" develops the robust, academic background that serves as the book's foundation. Abuelita Faith draws out some of the lesser-known women of the Bible and centers their stories to reveal them for the theologians and faith leaders they were. For example, in a chapter on protest and justice, she tells the story of Rizpah while interweaving storylines of contemporary and historical social justice campaigns. It's a captivating narrative that shows the long history of faithful women speaking truth to power.
For some, like myself, Abuelita Faith is a needed perspective shift. Armas helps me grasp faith in a way my education failed me, offering me the lived experiences and perspectives of those different than me and showcasing the richness and beauty of their faith. For others, this book is a revealing. It is recognition. Armas didn't write this book to educate white people like me. Nor should she have. She wrote it to celebrate the all-too-often uncelebrated faithfulness of marginalized women and lift them up as examples of wisdom, persistence, and strength. Abuelita Faith turns the spotlight to where millions of faithful women have labored through trials and tribulations to serve God and imbue faith into the next generation. It is a God-honoring, Abuelita-honoring work that invites readers into the margins to find a living, thriving, growing faith.