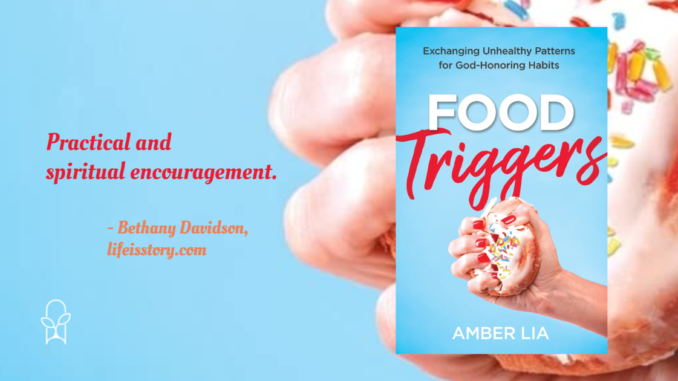 Food Triggers: Exchanging Unhealthy Patterns for God-Honoring Habits
by
Amber Lia
Published by
Bethany House Publishers
on January 4, 2022
Genres:
Non-Fiction
,
Christian Life
Buy on Amazon
Goodreads
How do we manage those unruly portions at restaurants? Why are we eating leftovers from our kids' plates? How do we stop boredom munchies? Certified health coach Amber Lia exposes 31 common food struggles and offers solutions to unhealthy eating habits, so you can break free from the cycle of reactionary eating and shame and walk in victory.
Food-related and body-image issues have been particularly controversial in recent years, as many people push back against "diet culture" and other people push back against them for going too far. This book lands somewhere in the middle. At times, Amber Lia focuses on the whole-body impact of good nutrition, emphasizing that changing what you eat can give you more energy, reduce brain fog, and help resolve a variety of medical issues, in addition to reducing your weight. At other times, she brings up the tired trope of the little black dress you want to wear again. Overall, even though people will have different opinions about some of her examples and comments, this author encourages her readers to pursue physical health by overcoming mental and situational obstacles that make it difficult for them to make wise eating choices.
The first half of Food Triggers: Exchanging Unhealthy Patterns for God-Honoring Habits focuses on external issues, such as huge portion sizes at restaurants and social eating during the holidays, and the second half focuses on internal triggers, such as negative self-talk, emotional eating, fixation on the scale, and addiction to food. The chapters are short and easy to read, and Amber Lia includes example prayers at the end of each one. She offers spiritual encouragement throughout the book and shares Bible verses, mostly without equating weight to a sin issue. At times, she veers too close to that, but she mostly focuses on gluttony and idolatry of food as sin without making body size equivalent to holiness. She also addresses the fact that some people can eat whatever they want and not gain weight, and that our culture's ideal of thinness does not mean that they are healthy.
She also acknowledges the impact of food corporations on people's lives, instead of equating weight struggles purely to personal choice, and encourages her readers to cut out sugar and processed ingredients to see the holistic changes this will make. This book focuses on pursuing health through nutritional changes instead of dieting through food restriction, and the author shares success stories from her life and from clients she has coached. I particularly appreciate that she shares stories from both men and women, instead of only focusing on a female audience, as most authors of books about body-image and healthy eating do. Overall, even though Food Triggers has some flaws, I think it is a solid guide for people who are looking for advice and encouragement for healthy, sustainable dietary changes.